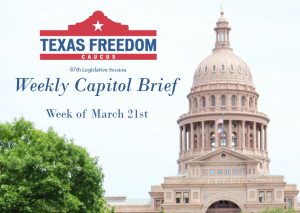 Good afternoon!
Happy Monday—The 87th Legislative Session is in full swing, and committees are hearing bills on the legislative priorities YOU helped us craft before the session began in January.
Some of these priorities are up for committee hearing this week, and we wanted to let you know when and where you can testify in favor of these great bills:
Fiscal Responsibility & Property Tax Relief
Monday, 3/22 at 10:00 AM in House Ways & Means, JHR 140
HB 1391 (Middleton) Elimination of Rollback Rate Election Loophole
HB 1869 (Burrows) CO Debt Factored into Voter-Approved Rate
HB 2429 (Meyer) Alternate Notice for when De Minimis Rate Exceeds Voter-Approval Tax Rate
Anti- Human Trafficking Laws
Wednesday, 3/24 at 8:00 AM in House Corrections, E2.026
HB 465 (Shaheen) Human Trafficking Parole Elimination
Business Protections & Back the Blue
Wednesday, 3/24 at 8:00 AM in House Judiciary & Civil Jurisprudence, E2.014
HB 610 (Swanson) State Preemption on Business Protections
HB 2335 (Middleton) Removal of Governmental Immunity Removal for Prosecutors who Fail to Charge Rioters
Election Integrity
Thursday, 3/25 at 8:00 AM in House Elections, E2.028
HB 6 (Cain) Election Reform Omnibus
Religious Protections & Banning Taxpayer-Funded Lobbying
Thursday, 3/25 at 8:00 AM in House State Affairs, E2.030
HB 525 (Shaheen) All Churches Deemed Essential
HB 749 (Middleton) Taxpayer-Funded Lobbying Ban
HB 1239 (Sanford) Restriction on Closing Churches
HB 1691 (Tinderholt) Restriction on Closing Churches
HJR 72 (Leach) Constitutional Amendment Prohibiting Closing of Churches
Second Amendment Protections
Thursday, 3/25 at 10:30 AM in House Homeland Security & Public Safety, E2.030
HB 1094 (Oliverson) Constitutional Carry
HB 1238 (Biedermann) Constitutional Carry
HB 1911 (White) Constitutional Carry
HB 1927 (Schaefer) Constitutional Carry
HB 2675 (Guillen) Expedited LTC for Women Who are at Risk of Violence
HB 2900 (Hefner) Constitutional Carry
Make sure you make your voice heard on these liberty-minded bills! You can also watch any of the committees by clicking this link at the appropriate time and clicking the relevant link.

If you're new to testifying, please visit this page for information related to registering to testify, where committee rooms are located, and other related questions.
As always, please let us know if you have any questions. We are here to help!

For Liberty!
---