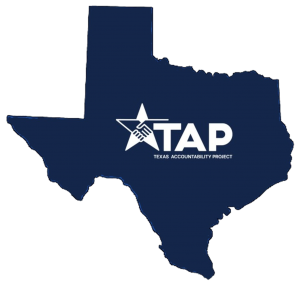 We are proud to announce the launch of the Texas Accountability Project today— an effort aimed at eliminating waste, fraud, and abuse from the state budget. We want taxpayer voices to be heard in Austin, and we want to empower them to help root out scarce taxpayer dollars from being wasted. Now more than ever, with so many Texans out of a job and businesses shut down, we must shine the harsh light of fiscal responsibility on every last tax dollar spent, and work harder than ever to limit spending to essentials. In this crisis, we can help people by minimizing tax burden on Texans and letting them keep more of their own money in their own pocket. After all, government has no money—it is all taxpayer money.
The project will consist of researching areas of the state budget, along with the individual entities that are funded by the state, and compiling reports of waste submitted by individual Texans, who can report abuse on the project's website, coming soon at www.TexasAccountability.org. The project will issue a report dubbed the "Texas Wastebook" before the start of the 2021 legislative session compiling egregious examples of government waste with the goal of highlighting areas that need not be funded and encouraging general practices of fiscal responsbility throghout.
All you have to do to participate is report suspected government waste. Then we can do the legislative research necessary to put a stop to it. The process is simple:
You report suspected fraud, waste, or abuse through our reporting portal on the project's website or by sending an e-mail to info@texasaccountability.org (all of which can be done anonymously).
We compile your data and properly investigate using legislative research and inquiries into the matter at hand. Many egregious examples of confirmed waste will be included in TheTexas Wastebook, which we will publish biennially before the budget process begins.
We will distribute copies of the Wastebook to grassroots organizations across the state and to our colleagues in the Legislature and their staff to bring awareness to the areas on which we must prioritize.
By responding to the evidence in the report coupled with pressure from citizens like yourself, the Legislature passes a slimmer budget, well within the means of the average Texan's ability to pay and one that mirrors the same decline seen in personal income across the state due to the economic downtown.
As a result of a slimmer budget, state government is forced to prioritize more effectively, leaving more resources available to essential areas in the budget.
A more efficient budget translates to a lesser tax burden on citizens and a more efficient governmental structure, after all taxpayers should keep more of their own money in their own pockets.
We'll need your help to get it done! To sign up for monthly e-mail updates on the project, click here, and click here to folllow us on Facebook, and here for Twitter.
---